October 16, 2023
Pink Lady® shines at Asia Fruit Logistica 2023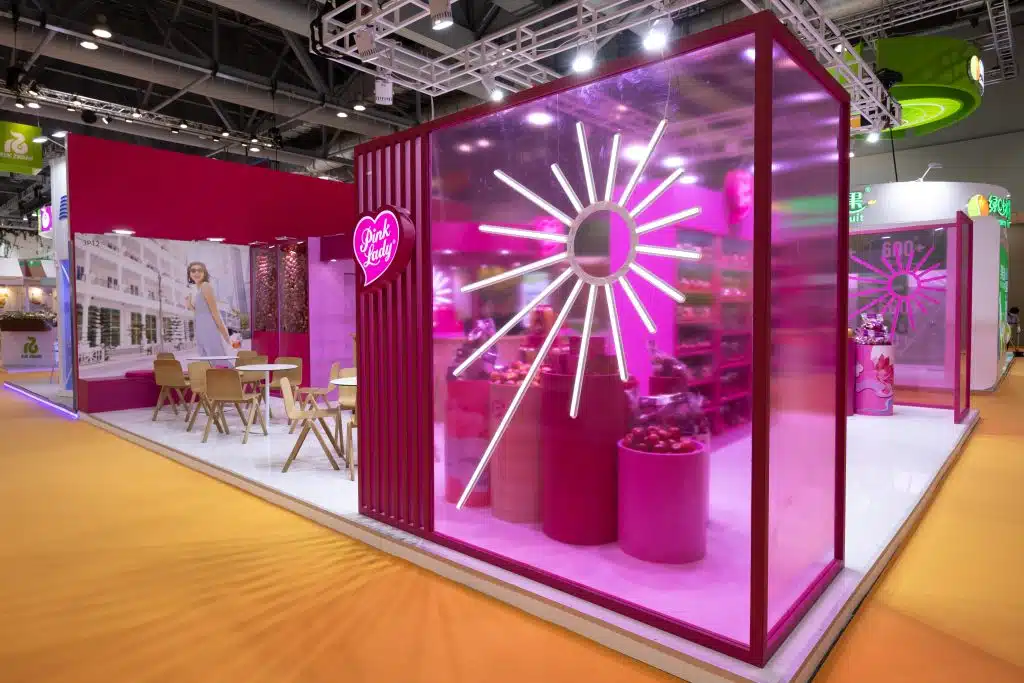 The Pink Lady® brand returned to Hong Kong this September for Asia Fruit Logistica, featuring the brand's biggest and boldest Asia Fruit Logistica presence yet!
Showcasing eye-catching visuals and high-impact product displays, in line with 2023's 'Barbiecore' trend, the stand truly celebrated the Pink Lady® brand's signature colour palette with striking pink Perspex walls and vibrant neon signage. Not only was the stand eye-catching, but it also attracted our highest number of attendees, exceeding Bangkok the previous year.
The main feature of the stand was the prominent retail space which showcased the full breadth of products within the Pink Lady® brand including sub-brands Pink Lady® Organic and PinKids®. With podiums for loose product and shelving that displayed innovative packaging concepts and festive occasion designs, alongside an array of Pink Lady® branded manufactured products, including juices and yoghurts. The retail space exemplified the power of the Pink Lady® brand and our product offerings to both new and existing customers in the region.
"We wanted to create a fun and bold booth design that was a true testament to the Pink Lady® brand and everything it stands for at Asia Fruit Logistica 2023," said Sophie Griffith, Global Brand Manager for Pink Lady®.
"The multi-faceted product displays told the story of the brand's growth over recent years, with the Pink Lady® brand entering into new manufactured product categories, while showcasing the evolution of our sub-brands and packaging solutions.
"Our packaging and occasions strategy is strengthening the prominence and value of the Pink Lady® brand in new markets, giving their consumers unique and relatable opportunities to both connect with the Pink Lady® brand and to trial our products."
"Asia Fruit Logistica again provided a unique opportunity for the Pink Lady® team to meet with partners and prospects from across the global supply chain and engage in progressive discussions around expanding market opportunities for the Pink Lady® brand, particularly in Asia," said Sophie.
Although the extreme weather conditions meant the conference was cut short, the rain didn't dampen attendees' spirits, with over 12,000 individuals from across 70 countries descending on AsiaWorld-Expo to visit the 800 exhibitors and explore the latest innovations and trends from the thriving fruit industry.
Across the conference, exhibitors highlighted sustainability and innovation while the event program offered market insights, trends and forecasts, facilitating networking opportunities for attendees from all over the industry.
The date for Asia Fruit Logistica 2024 has been set, with the trade show planned to return to Hong Kong from 4—6 September 2024 – rain, hail or shine, or possibly all three again!